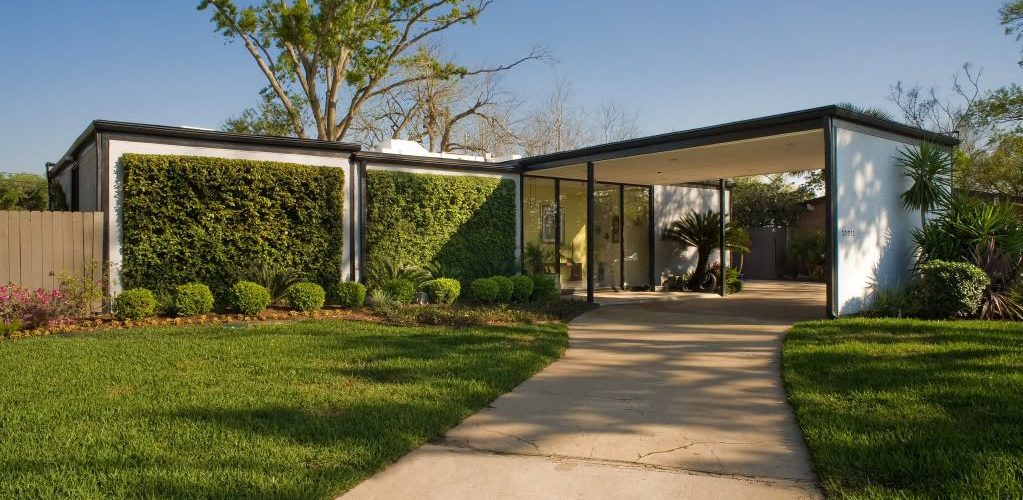 Jenkins House II
10911 Willowisp Drive
Architect

Year Built

1955

Building Type

Single-Family Residential

Neighborhood

Willowbend

Status

Still With Us
William R. Jenkins, FAIA, built his second house (the first house he built for his own use was on Evergreen St. in Bellaire and has since been demolished) in the then new Willowbend subdivision for himself and his family in 1955. He lived here for several years before moving to the nearby subdivision of Willow Meadows, where he lived (10002 Willowgrove) for the rest of his life. Upon building this house it was immediately recognized as an important modernist residence by the Houston architectural community. The house has no hallways, high ceilings, and uses space very efficiently. The house was also comparatively inexpensive at the time because the structure employed steel framing, large sheets of glass, sliding glass doors, and concrete blocks which are exposed on the interior of the house as well. Inside, however, marble countertops, floor to ceiling views from the bathrooms out to an enclosed atrium garden, the open floor plan, and high ceilings gave the house a sense of luxury.
Originally under 2000 square feet, the back patio was converted into an all glass sun room by a previous owner and the garden atrium area has been converted into a master closet. Though the house has undergone many changes over the years, its current owners maintain it meticulously, and are especially impressive in their landscaping.
The house was featured in Better Homes and Gardens Magazine in October, 1957, with the headline "This House Will Surprise You". In 1959 the house was featured in a pamphlet on Houston Modern Architecture. In 2005 the house was included on the Rice Design Alliance Tour. To this day it remains a timeless beauty.