January 31, 2021
3 Spring Hollow Street, Houston, TX 77024
Please help us find new preservation-minded owners for these outstanding vintage modern houses located about 9 miles west of downtown Houston.  One house is open for touring and two near- by are drive-bys, and viewable online.
Thanks to Houston MODern Market for sponsoring this FREE event.
Wilson, Morris and Crain designed this house about 1950 for the H. Fletcher and Katherine T. Brown family.  The single level house with built-up low pitched gravel covered roof is situated on a magnificent wooded lot.  Tremendous amounts of glass create a strong connection to the naturalistic creek front setting.
Fletcher Brown was an attorney and Katherine T. Brown was a professor at Rice University, teaching art history in the school of architecture, plus serving as dean of undergraduate students. She graduated from Rice in 1938 and in 1963 received an MFA from Cornell University.  She was described as being almost impossibly elegant and as a beloved instructor with students clamoring to take her classes until her 1989 retirement.  Wilson, Morris and Crain and firm were mostly Rice graduates.  The firm was one of the most prominent in Houston, later hired to design the Astrodome and One Shell Plaza plus many others.  By 1972, the firm had become known as S. I. Morris Associates.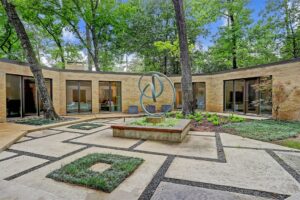 339 Hunters Trail Street, Houston, TX 77024 (Drive-by and online tour)
  HAR Link  |  Google Map
 Charles Tapley designed this attractive, well appointed house with an open feel organized around a private large central courtyard bringing in shady views.   Abundant windows are balanced with gallery like art spaces.  Charles Tapley was an architect, landscape architect and taught architecture at the University of Houston.  He was a 1955 Rice graduate and perhaps most known for his work to preserve and restore Buffalo Bayou.  Tapley designed the now endangered Tranquilly Park that honors the Apollo 11 moon mission.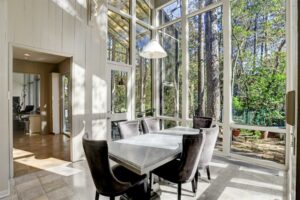 347 Hunters Trail Street, Houston, TX 77024 (Drive-by and online tour)
  HAR Link  |  Google Map
This extremely thoughtfully conceived house known as "The House of Ideas" was built for House and Garden magazine with architect Bruce E. Sasse, Jr. and wife Del in charge of the design from the office of Ford, Powell & Carson of San Antonio.  Houston's often pleasant climate can be enjoyed thanks to the incorporation of covered outdoor walkways, deeply shaded porches and screened dining and living areas.  Note the special detailing of the doors and walls, soaring sloped ceilings, and how the house transitions into the landscape in several areas.  Ford, Powell & Carson was founded in 1939 by legendary regional modernist O'Neil Ford.  Their work involves both historic and new structures.  Houston Mod has toured HemisFair '68 and the campus of Trinity University, two of their projects.
The Mod Squad will be on hand at Sunday's event to assist with membership and publication purchases.  After Alden: Midcentury Architecture in Brazosport, Texas, Houston Mod's new publication by Marty Merritt with a forward by Stephen Fox and photography by Benjamin Hill, will be available at Sunday's event along with our other publications. Or, you may purchase a copy online at our website.