Houston Mod invites you to join us Sunday, August 14, 2022
for a Mod of the Month open house event from 2 – 4 PM.
Please help find new preservation minded owners for these outstanding vintage modern houses located in Meyerland, about 13 miles southwest of downtown Houston.
Thanks to Houston MODern Market for sponsoring this FREE event.
Here's a rare opportunity to own one of Houston's most attractive and best-preserved vintage modern houses. Architect David Brooks designed the house for his family who occupied it from 1965 to 1995 when it was purchased by the current owners. The plan uniquely features a central indoor/outdoor screened room which is captivating and expands the visual spaciousness of the surrounding rooms. Other sought-after elements of the design are a flat roof with exposed beams and wood ceilings (some 10′ in height), clearstory windows, terrazzo floors, brick fireplace with barbeque, built in refrigerator/freezer, and walls of floor to ceiling windows.

Brooks & Brooks designed the house. The firm consisted of brothers David G. Brooks (1925-1995) and Edward B. Brooks (1927-2006).  Both were graduates of Reagan High School and the University of Houston College of Architecture. Early in their careers they worked in the office of architect Phillip G. Willard and later, David Brooks partnered with architect Lars Bang. In 1953, the brothers formed their own firm and worked together for over 40 years designing residential and commercial structures. Landscape architect George Porcher updated the site for the second owners. This house is a City of Houston Protected Landmark.  It cannot be demolished or altered in frontal appearance.  Visit the landmark details here.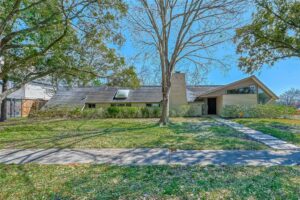 5031 Braesvalley Drive, Meyerland, Houston, TX 77096 (Drive-by only)
HAR Link | Google Map
This is a significant house by architect Allen Williams who designed the house for prominent builder Roy Harris. Harris championed the designs of Allen Williams and was his greatest patron. This house is somewhat similar to 4603 Ivanhoe Street in Afton Oaks, a house Williams designed for his family.  The house was damaged is being sold at lot value.
If you have information about this house or other vintage mod designs, please share it with Houston Mod so it can be included in the Modern in Houston archive.