The Architecture of Memorial Bend
Visit the Memorial Bend Architecture blog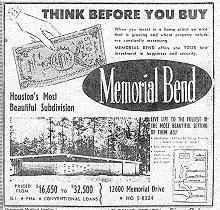 Just as postwar modern architecture seems harder to find in our city, Memorial Bend is home to one of the largest concentration of 1950s modern houses in Houston. It was 1955 when builders Howard Edmunds and Robert Puig paid $3,000 an acre for a 200-acre plot of land off of Memorial Drive. Due to a lack of funds, they enlisted the help of three investors to form the Memorial Bend Development Company. One investor was William Norman Floyd, an architect whose work helped define the residential look of Houston from the 1940s until the late 1960s. Floyd designed over 500 houses and commercial buildings in the Houston area, several of which are located in Memorial Bend. Other architects such as William R. Jenkins, Harwood Taylor, Lars Bang and Brooks & Brooks also placed their mark on Memorial Bend. Jenkins and Taylor, during the early years of their careers, both worked for Floyd as draftsmen. It was a commitment to making Memorial Bend unique that enabled these architects to provide Memorial Bend with a character and style not found in other postwar Houston-area neighborhoods. It was also a dedication to good design that attracted notable architects and numerous personalities to the neighborhood.
Earle S. Alexander, Jr., retired architect and partner in the firm of Pierce, Goodwin, Alexander and Linville, moved into the neighborhood when he was just a drafstman. When his wife showed him an advertisement for Memorial Bend, Alexander protested that "nothing was past Camp Hudson," a Boy Scout camp off of Memorial Drive. Alexander was one of the first residents in "The Bend" and one of many architects who became associated with the neighborhood. Caudill, Rowlett and Scott founders such as Bill Caudill, Wallie Scott, Charles E. Lawrence and Tom Bullock moved into the neighborhood in the late 1950s, following the relocation of their firm to Houston. Other prominent architects such as Harold Oberg of Jenkins, Hoff, Oberg and Saxe; Gunter Koetter of Koetter, Tharp and Cowell and Gilbert Thweatt of Welton Becket & Associates called Memorial Bend home.
It was during the neighborhood's early years that several of the homes in Memorial Bend were featured in magazines such as American Builder, House & Home, Practical Builder, Better Homes & Gardens and House Beautiful. Floyd's designs, often repeated throughout the neighborhood with changes in the fašades, received national recognition from the press and the National Association of Home Builders. While many traditional houses are also located in Memorial Bend, flat, low-pitched and butterfly roofs, clerestory windows and the postwar spirit abound in our neighborhood. Today, one can walk through the neighborhood and see why early advertisements proudly claimed, "Memorial Bend: Home of Prize Winning Contemporaries... more good Contemporaries than any other subdivision in Houston."





"Apart from the fact that street names are derived from the titles of operas, the remarkable thing about Memorial Bend is that many of its houses were designed by the architect William N. Floyd, one of the investors in the subdivision's development. Floyd's crisp, undemonstrative modern style gives Memorial Bend an inherent quality lacking in the surrounding neighborhoods of west Memorial."
- Stephen Fox, Houston Architectural Guide, (c) 1999, p. 300
This page is designed to educate Memorial Bend residents and the public about the history and architectural significance of Memorial Bend and to serve as a repository on the neighborhood's distinguished past.
---