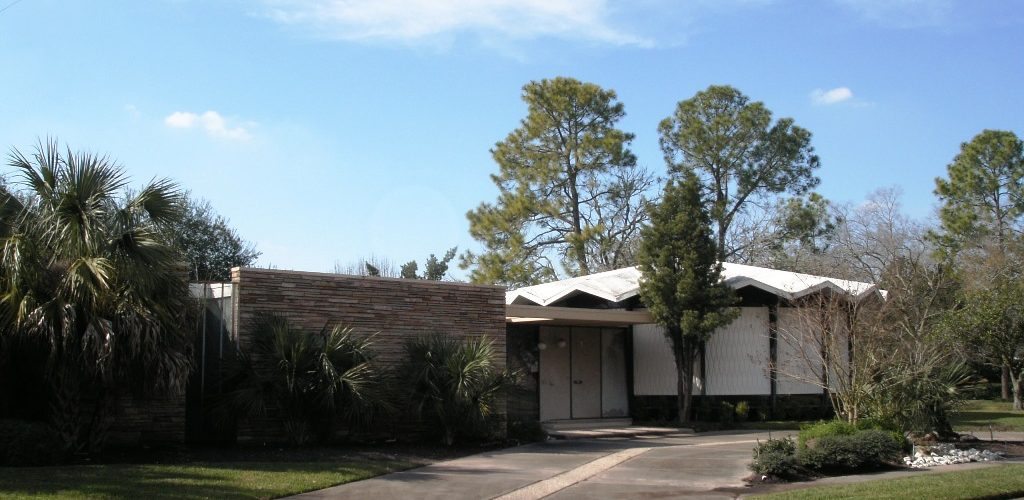 Cohen House
9602 Moonlight Dr.
Architect

Year Built

1964

Building Type

Single-Family Residential

Neighborhood

Meyerland

Quadrant

SW

Status

Mod No More
The house Jean and Robert Cohen built for themselves in 1964 in Meyerland, dubbed the "Carousel House" because of its round, steel-framed living-dining area, was one of Houston's most extraordinary Contemporary houses. During the postwar years (1945-1965) modern architecture in the US was commonly broken into three main groups: Usonian, Miesian and Contemporary. Usonian and Miesian were informed by the work of the two most influential American modern architects of the time, Frank Lloyd Wright and Ludwig Mies van der Rohe. Contemporary, on the other hand, reflected an eclectic mixture of architectural elements and was not indebted to one specific source or master. According to architectural historian Stephen Fox, Contemporary was further characterized by a tendency to use modern architectural elements in a decorative rather than a tectonic manner as Usonian and Miesian architects did. That does not in any way detract from the architectural significance of this building, which was an exuberant reflection of modernism`s deep penetration into the psyche of populist postwar American culture.
The house was built with a combination of wood frame and steel construction. According to a Houston Chronicle article from 2003 (Madeline McDermott Hamm, `Builder`s Vision Took Shape in Custom Carousel House.` 11 May 2003), the house had 104 piers and more than 15,000 pounds of steel supporting the folded plate roof of the circular living-dining area: `The rotunda cantilevers out seven feet from the circular center base. Around the perimeter, steel beams called bents rise to meet the railroad tracks that support the pleated roof. The tracks radiate form the steel ring around the skylight, sandwiched between plywood finished with a polyurethane coating outside and sheetrock and acoustical plaster inside.` The faceted, exterior wall panels are Marine-fiberglass. Interior walls were finished with Shikii silk panels and the floor was covered with `183,000 tiny walnut squares.` Cohen also designed several pieces of furniture for his house. The most spectacular was the 32-foot long custom sofa covered with dark blue velour shaped to fit the curve of the walls.
Despite efforts to save the house by concerned citizens, Houston Mod, and Lisa Gray of The Houston Chronicle, the house was demolished in November, 2007.