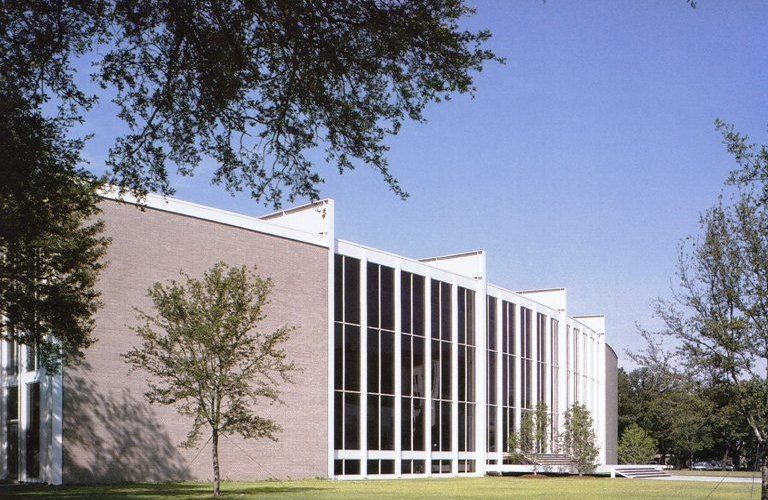 Museum of Fine Arts, Cullinan Hall and Brown Pavilion
1001 Bissonnet
Architect

Year Built

1958

Building Type

Institutional

Neighborhood

Museum District

Quadrant

SW

Status

Still With Us
In 1953, Nina J. Cullinan made an extraordinary gift to the Museum for a building addition that would be a memorial to her parents. She stipulated that the building was to be designed by an architect of "outstanding reputation and wide experience." The MFAH trustees turned to Ludwig Mies van der Rohe, one of the great figures of 20th-century modern architecture, for the commission. Arriving in Houston on a hot summer day to initiate planning, Mies is said to have remarked, "But in this climate you cannot want an open patio." His eventual design was predicated on a curved, glass-enclosed space, fully visible from the street. Ignoring the standard of an open-air courtyard, Mies rejected conventional museum design in favor of Modernism. As Ann Holmes, fine arts editor of the Houston Chronicle, wrote, "entering Cullinan Hall was like walking from inside to the out-of-doors."
The 10,000-square-foot, fan-shaped exhibition gallery with a dramatic glass curtain-wall exhibition space featured flexible walls, lighting, an addition of office spaces and expanded areas for shipping and storage. With an expanse of lawn in front of the entrance to showcase large-scale sculpture, the new pavilion, set back on a long path through the green lawn, beckoned guests to explore the treasures inside. Cullinan Hall is still the central feature of what is now the Caroline Wiess Law Building.
In 1961, James Johnson Sweeney, founding director of the Guggenheim Museum and a former curator at the Museum of Modern Art, became director of the MFAH. A close friend of Mies van der Rohe's and an admirer of Cullinan Hall, Sweeney determined that the Museum needed an expansion accessible from Bissonnet Street that would serve as a new entrance lobby, as well as an expansive gallery on the second floor. A theater, now called Brown Auditorium Theater and one of few Mies-designed theaters still in use today, comprised the lower level, along with expanded galleries and office spaces. Plans were drawn up for what would become Brown Pavilion, but neither Sweeney nor Mies would see the project through to completion. Sweeney left the Museum in 1967; his successor, Philippe de Montebello, began work in 1969, the year Mies passed away. From the beginning of his tenure, de Montebello supported the design and was determined to raise money for the construction of both the Mies pavilion and a new building for the Museum school.
When complete, Brown Pavilion had the same modern details and finishes as Cullinan Hall: white plaster walls, suspended ceiling panels, and exposed steel columns. With the 1974 dedication of Brown Pavilion—named for The Brown Foundation, Inc., supported by brothers Herman and George R. Brown, founders of a gas pipeline network—the Museum more than doubled its space. Paul Goldberger, writing in the New York Times, declared it "one of Mies' most stunning spaces."
The Brown Pavilion still serves as the Bissonnet Street entrance to what is now the Caroline Wiess Law Building.