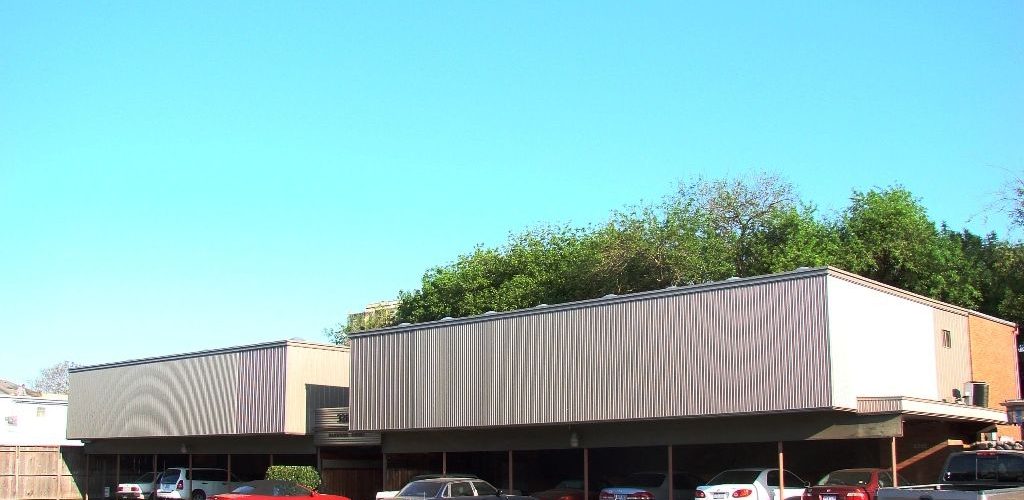 Settegast Apartments (now Harwood Court)
3262 W. Main Street
Year Built

1959

Building Type

Multi-Family Residential

Neighborhood

Greenway Plaza

Quadrant

SW

Status

Still With Us
From BOOMING HOUSTON AND THE MODERN HOUSE by Ben Koush:
"The twelve-unit complex was divided into four two-story blocks built around an intensively planted private courtyard originally containing a swimming pool. The two blocks on the south side of the property contain up-and-down two-bedroom units partially cantilevered over a row of parking spaces facing West Main Street. The two blocks on the north side contain one story apartments on each floor. The up-and-down units feature spacious double-height living rooms. The bedrooms are on the second floor and separated from the living area below by sliding Shoji-type screens of translucent plastic panels in wood frames. Each bedroom has a full bath, with skylight, so that apartments could be shared by unrelated couples.`
`The Settegast Apartments, like Taylor's Electri-Living House (Taylor House featured elsewhere on the website), presents a blank façade to the street that gives little indication of the inviting gardens contained within their walls."
From the location to the description and the look of the apartments today, it would be hard to imagine a more perfect small, mid-century modern apartment complex in Houston.
The apartments were renovated and are currently maintained by Palmer Schooley Architects.