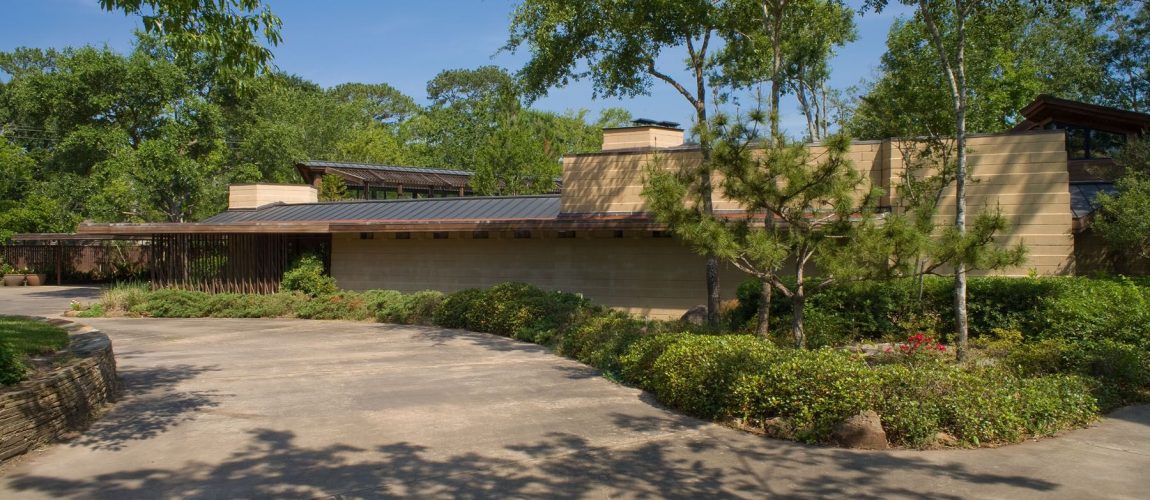 Thaxton House
12020 Tall Oaks St
Architect

Year Built

1954

Building Type

Single-Family Residential

Neighborhood

Memorial Villages

Quadrant

SW

Status

Mod No More
Frank Lloyd Wright`s only Houston building sits deep in the Bunker Hill Village area on over an acre of land. It is barely visible from the street, yet most Houstonian architecture students and fans will find themselves at its gate at some point as a sort of pilgrimage to the great master.
Wright was quoted in the August 1958 issue of House and Home magazine as saying `We will have a good garden.` The house is planned to wrap around two sides of this garden. We must have as big a living room with as much vista and garden coming in as we can afford, with a fireplace in it, and open bookshelves, a dining table in the alcove, benches, and living room tables built in.�
The concrete block house has a 120/60 degree parallelogram plan. Other interesting facets of the house include a long screened in patio (the roof of the patio is a screen as well, not a roof), a swimming pool only a few feet from the master bedroom door, an unusually shaped built-in bed in the master bedroom and triangle shaped recessed lighting bays.
Though the original building remains, the property has eventually been expanded to over 10,000 square feet of living space.