April 30, 2022
10131 Shady River Drive, Houston, TX 77042
Houston Mod invites you to join us this Saturday, April 30, 2022
for a Mod of the Month open house event from 1 – 4 PM.
Please help find new preservation minded owners for these interesting vintage modern houses located in the Briargrove and Memorial areas, about 12 miles west of downtown Houston.
Thanks to Houston MODern Market for sponsoring this FREE event. The next Modern Market is scheduled for November 2022!
10131 Shady River Drive, Briargrove Park, Houston, TX 77042 (Open 1 – 4 PM)
HAR Link   |   Google Map
This house was built in connection with the 1964 New York World's Fair, but before research by Houston Mod, nobody remembered, not even the long-term owners.  All aspects of the World's Fair House were upgraded including the brick and natural stone exterior, extensive covered patios, two fireplaces, and the innovative kitchen complete with custom cabinetry and double Flair oven with upward-gliding glass doors. Formica was the major sponsor and many of their products were incorporated. Illumination is provided by four sky domes plus recessed lighted ceilings and special mod fixtures, all well maintained.
Dick Coneway of Trend Setter Homes built the house.  He was an architect who graduated from Texas A & M in 1931 and built a number of upscale houses including several featured in the Parade of Homes.  The New York version of the house was designed by architect Emil A. Schmidlin.  Over 130 versions of these dream homes were built coast to coast, each modified to fit local preferences and site. In comparison to several others, it seems Houston's version is one of the most spectacular.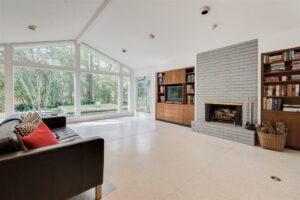 12511 Winding Brook Lane, Houston, TX 77024 (Drive-by Only)
HAR Link   |   Google Map
The highly regarded builder Al Fairfield constructed this attractive modern house in 1965 for the Jesse and Cathy Caesar family who have maintained it in mostly original condition.  The house can 

be

 considered a Mad Man Mod since Jesse Caesar was involved in marketing and devised the iconic 

'Tiger

 in Your Tank' campaign for Exxon plus other successful campaigns.
Architect William Floyd helped Al Fairfield become established in Houston. Fairfield built hundreds of fine houses, mostly located in the Memorial area. Later, at the request of folks who bought his houses, he developed office buildings which were the start of the Energy Corridor. He worked with several architects including Floyd, Bill Caudill and Waller Poage.
If you have information about th

ese houses

 or other vintage mod designs, please share it with Houston Mod so it can be included in the Modern in Houston archive.