June 14, 2020
319 Westminister Drive, Huntleigh, Houston, TX 77074
Houston Mod invites you to join us Sunday, June 14, 2020
for a Mod of the Month open house event from 3 – 5 PM.
At mid-point in 2020, we hope you will help us find new preservation-minded owners for these outstanding vintage modern houses located 10 miles west of downtown Houston. Thanks to Houston MODern Market for sponsoring this FREE event.
In 1959, Doctors Erwin and Gloria Biles built this flat-roofed modern house in the Memorial area neighborhood of Huntleigh. It was designed by Wilson, Morris, Crain & Anderson, one of the most successful architecture firms in the nation.  Their work is valued for its design excellence executed to the highest standards.  A dramatic double door entry opens to gleaming terrazzo floors flowing throughout the living areas and most of the house.   A sparkling vintage swimming pool is the central focal point of the U shaped plan with glass walls opening much of the back elevation. The house and property size is large yet not overwhelming.
The architecture firm had several arrangements yet mainly consisted of partners F. Talbott Wilson (1912-1988), Seth I. Morris (1914-2006), Bluford Walter Crain, Jr. (1914-1995) and Ralph Anderson (1923-1990).  All were graduates of Rice School of Architecture except for Crain who was a University of Texas School of Architecture graduate. Their major commissions have shaped Houston plus much of the state and include work all or in part on such major buildings as the Astrodome, First City National Bank, the Houston Public Library Downtown, the Houston Country Club, One and Two Shell Plaza, Pennzoil Place, the Wortham Theater, Glassell School of Art (demolished), Williams Tower, the Houston Post building, KPRC and KHOU TV offices (both demolished), the Frank Erwin Center (set for demolition), Harris County Family Law Center (endangered), and numerous others.  Architect Ray Morris, Jr. (1928-2010) assisted with the design of 319 Westminster.  Ralph Anderson designed a second house for Doctors Erwin and Gloria Biles, a post modern townhouse located nearby.
Masks are required to be worn for this event. This is an occupied home so please try to resist touching when inside and maintain 6 feet of social spacing.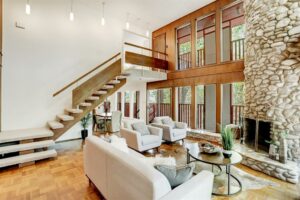 203 Chimney Rock Road, Huntleigh, Houston, Texas 77024 (Exterior Tour Only)
HAR Link
In 1965, after living in Japan and China, Dr. Garfford Broussard and wife Irene built this Asian inspired tree house-like modern design in a wooded ravine setting.  Exotic plants and fruit trees were added among extensive rock terraces and pathways mimicking the environments of Asia and Hawaii.  The house is said to be the design of the owner.  The living areas are elevated with parking below. An attractively detailed double height space was created for the family room where a rounded rock corner fireplace and open tread stairway are sensational. Shoji screens and intricately composed oriental lattice provide shade for the western windows. Covered porches and walkways surround much of the house on every level providing a close tie to nature.
Dr. Garford Broussard, with his twin brother Clifford, also built an interesting modern office building located at 9183 Katy Freeway in 1963 to house their dental and orthodontist practices. The building is said to have also been designed by Dr. Broussard. Additional parking for the tour is available on the northern portion of Westminster Drive