September 25, 2021
3615 N. Braeswood, Houston, TX 77025
Houston Mod invites you to join us this Saturday, September 25, 2021
for a Mod of the Month open house event from 1 – 3 PM.
Please help find a new preservation-minded owner for this outstanding vintage modern house located in the Braeswood area, about 6 miles southwest of downtown Houston. Event parking is available on Glen Arbor as well as on Edloe and Tartan Streets.
Thanks to Houston MODern Market for sponsoring this FREE event.
3615 North Braeswood Boulevard, Braes Heights, Houston, Texas 77025
HAR Link   |   Google Map
Architect Joseph Krakower, with associate Herb Greene, designed this exceptional house in 1957 for the Salzman family who owned it until 2014. The house incorporates a number of handsome artistic design elements making it a pleasure to experience.  When touring, note the repeated triangular theme, pyramidal volumes over several rooms, the corner-placed plate glass windows, and the textured glass elements with graduated divisions. The house was damaged by Hurricane Harvey but has recently been elevated and repaired in a thoughtful manner. It is listed in the AIA Houston Architecture Guide along with the house next door, 3611 North Braeswood, by the same architects.
Joseph David Krakower (1922 -1986) was born in Houston and graduated from Rice Institute in 1943 with a BS in architecture. He then attended USC where he earned a Masters in Architecture degree in 1947. He worked for Robert Kerrah and Lenard Gabert before starting his own firm in 1949. Krakower also designed the Barvin house, until recently located at 3506 Glen Arbor.
Herb Greene was Krakower's designer from 1954 to 1958 and later achieved international acclaim with his own practice. Greene was born in New York and graduated with a Bachelor of Architecture degree in 1953 from the University of Oklahoma. He studied under and worked for Bruce Goff in Norman, Oklahoma and also worked for John Lautner in Los Angeles, California before coming to Houston.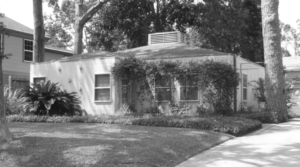 6653 Wildwood Way, Houston, Texas 77043
HAR.com  |   Google Map
Here's an early somewhat International style mod available in Idylwood, five miles southeast of  downtown Houston. The house was built of Vibrex Tile in 1937 and designed by Swenson, Heidbreder & Bush.