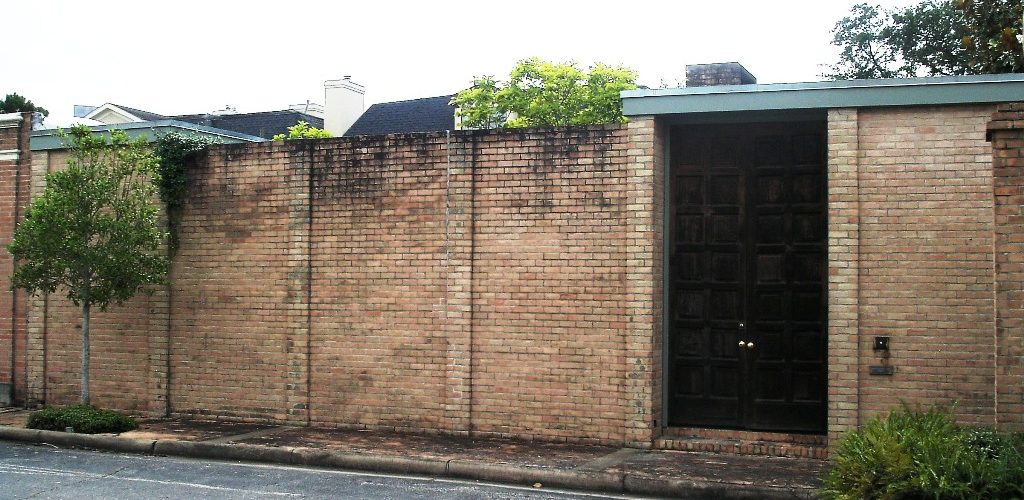 Bolton Townhomes
5000 Longmont
Architect

Year Built

1963

Building Type

Multi-Family Residential

Neighborhood

Tanglewood

Quadrant

SW

Status

Still With Us
The modernist townhomes at 5000 Longmont were the inspiration of Preston Bolton. They consist of seventeen units, many of which Bolton designed and one of which Preston Bolton himself, lived in (#1), and had featured in Architectural Record. Later the home was included in 25 Years of Record Homes. The development was built in Tanglewood, which at the time consisted mostly of houses.
The structure of the house is wood frame on a concrete slab with exterior walls of champagne-colored brick and concrete block. Brick is also employed inside, as is walnut paneling. Floors are dark oak with borders of white tile.
Preston Bolton was quoted in Architectural Record : "People are continually amazed that we have four bedrooms and four baths, each with its own patio view in this limited space, but the living area of our house has been considerably increased by the garden courts. We have small bedrooms and this is the way we like to live – with a minimum of furniture and maximum use of organized dressing room storage. Our favorite place is the library with its walls of books and glass: one way we look out on a patio with a fountain of playing water; the other way, to a tropical garden with swaying palms. We like our house and wouldn't change a thing."
#1 is currently being restored by its current owner.