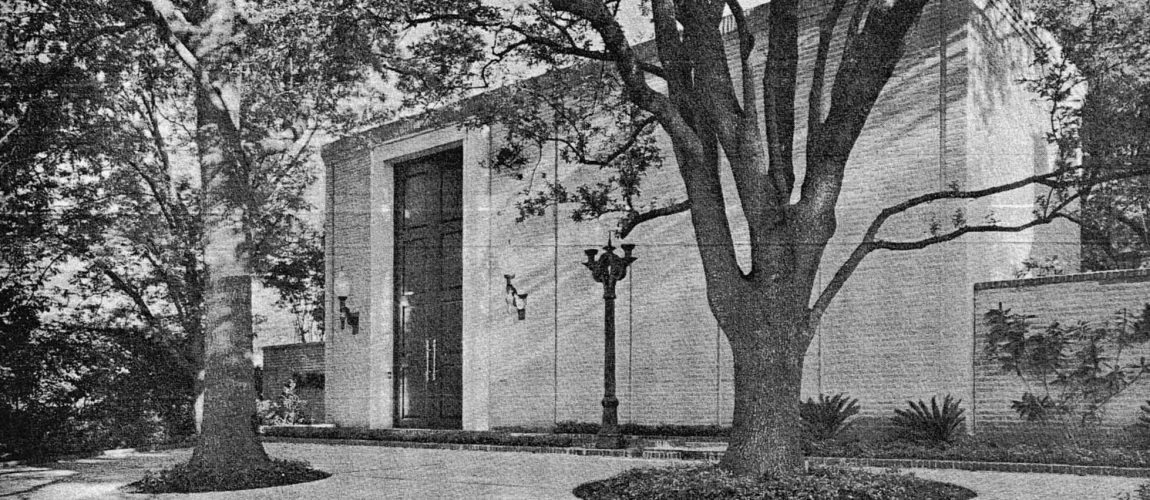 Loy House
2105 Inwood Drive
Architect

Year Built

1966

Building Type

Single-Family Residential

Neighborhood

River Oaks

Quadrant

SW

Status

Still With Us
Preston Bolton designed this house on one of the last lots left in River Oaks, at the corner of Shepherd and Inwood Dr. The Loys had their hearts set on living in River Oaks, but most other sites were already built upon. Bolton took the challenge of building this beautiful yet private residence. From the street, the house is a solid 2 story wall with huge double doors and oversized "old world" looking lamps and a lamppost. On the inside, the feel of the house is completely different.
The house was featured in House and Garden in September, 1966 with the title "How to Build a Quiet Haven on a Noisy Corner." In the article the Loys explain that their son was already grown and they only wanted a few large rooms instead of a lot of little ones. The 20 feet tall garden room is the star of the house and measures nearly 30×23 feet, including a small fountain at one side and skylights to let the sun in. The flooring in the house is terrazzo. The house is L shaped and most of the rooms look out onto a courtyard with a pool. The landscaping was designed by Mrs. E.L. Manning with lighting by John Watson. Though the house has only 2 bedrooms, it has 4100 square feet in total.
There are no windows facing the street to ensure that noise would not be an issue.
As with many modern houses in Houston, the owners preferred to keep their antiques as opposed to buy modern furniture. One notable room is the powder room which featured a French candelabra as well as the massive carved wood fireplace frame that once belonged to a Mexican church.