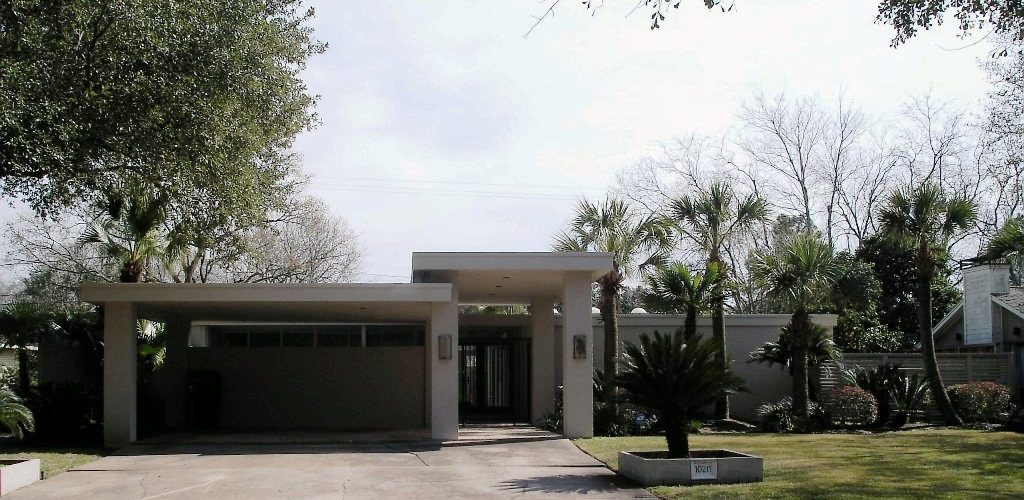 Brier House
10211 Willowgrove
Architect

Year Built

1957

Building Type

Single-Family Residential

Neighborhood

Willowbend

Quadrant

SW

Status

Still With Us
This William Jenkins designed house was featured in the April, 1957 issue of the seminal magazine, Arts and Architecture. It was Jenkins` only house to be featured in this magazine. In the article an outline of the house is given. The house employs a steel frame with masonry walls as filler panels forming the interior and exterior surfaces. It tells that the air distribution is in the slab.
The most interesting feature of the house (which is no longer extant) was the arched carport. Three 9 foot plywood arched roofs formed the carport and rear patio area. The arches were made to look like they extended through the house, though they stopped at the beginning of the house proper. Apparently, over the years this part of the structure was not maintained and was replaced with a flat roofed carport around 2001.
Other features of the house include the separation of the master bedroom from the children's bedrooms. The master bedroom has its own private garden area. The children's bedrooms, on the other side of the house looked out onto a side play yard through sliding glass doors. The living room looks out to another garden in the front. A sundeck was to extend out like a pier over the bank of the Willow Waterhole Bayou. A swimming pool was planned and eventually built.
Flooring is terrazzo and carpet and several skylights were employed to increase natural light in the house.
The house was also featured in the Houston Chronicle on Sunday, August 26, 1956 in an article titled, "Distinctive Home of Steel, Masonry, Being Erected in Willow Meadows".
Though this house has been in the hands of home "flippers" and several remodels, it is currently owned by someone who is sympathetic to modernism.