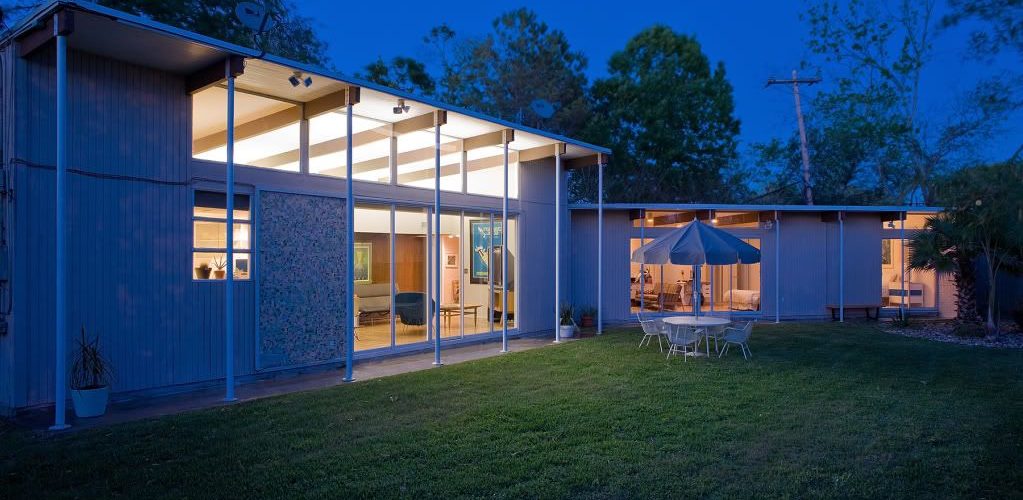 Godine House
10920 Willowisp Drive
Architect

Year Built

1955

Building Type

Single-Family Residential

Neighborhood

Willowbend

Quadrant

SW

Status

Still With Us
This house, among five 1950`s modern homes in the Willowisp Cul De Sac in the Willowbend subdivision, was designed in 1955 by William R. Jenkins for the Godine family. Nearing completion of the house, the Godines opted for a more traditional house elsewhere in Willowbend. Soon after, the Hoover family purchased the house and owned it until 2005 when it was purchased by Houston Mod Board Member, Jason Smith and his wife, Vanessa and who beautifully restored it.
Modern aspects of the house include floor to ceiling glass in each room (except from the bathrooms, which are outfitted with multiple skylights), original Saltillo tile (a favorite flooring of Jenkins) in the informal living areas and kitchen, suspended cabinets and desks, a fish pond built in to the front of the house, and most notably, the exposed structure of the post and beam house. The slender cylindrical steel posts which hold up the house (along with several load bearing wood framed and brick walls) are separated from the house by several feet providing shady cover and walkways around the house.
Awarded The Greater Houston Preservation Alliance's Good Brick Award in February, 2007 for the restoration of the house.