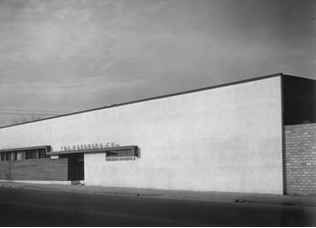 Detering Co. Building Remodeling
3028 Washington Avenue
Architect

Year Built

1949

Building Type

Institutional

Quadrant

NW
Kamrath`s design for the new façade of an existing building composed of unfinished redwood clapboards and large expanses of white stucco was striking and economical. The taut, planar effect he achieved was markedly different from the series of small brick clad commercial buildings he had designed upon his return from military service in December 1945; the Technical Instrument Co. Building of 1947, the Seismic Exploration, Inc. Building of 1947 and the Thornhill-Craver Co. Building of 1948. The earlier buildings all relied on deep overhangs and recesses to animate exterior surfaces.
This remodeling marked the start of a long working relationship between MacKie & Kamrath and the Detering Company, a leading supplier of building materials in Houston. Carl & Herman Detering later asked Kamrath to design a warehouse in 1954, a shopping center in 1955 (not built), a new office building in 1958, a motel in 1958, a house in Houston and a ranch house in Rio Frio in 1959, a showroom in 1959 (not built), and an office complex on the Gulf Freeway, `Office City` in 1960 (partially built).
The building is still used by the Detering Co. The redwood has been replaced by cementitious clapboards painted white.