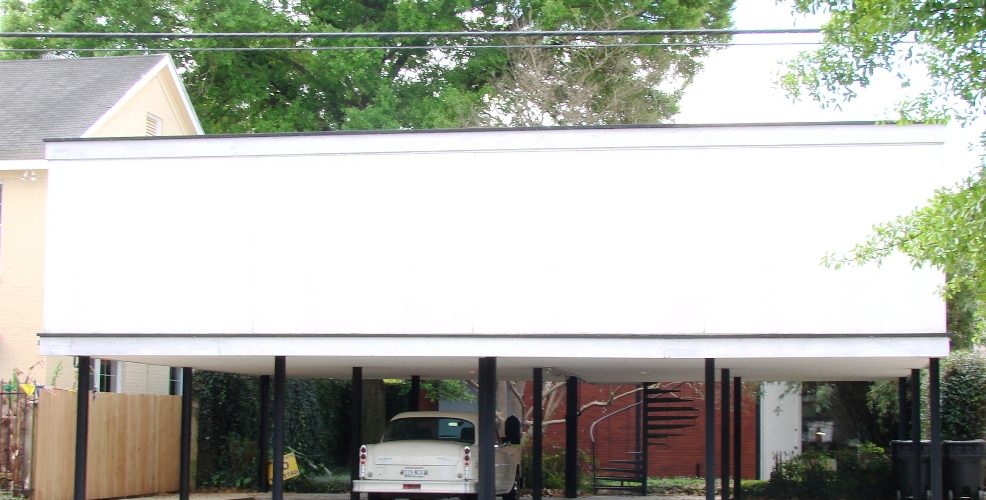 Fred Winchell Photography Studio and Apartments
1953 Richmond Avenue
Architect

Year Built

1953

Building Type

Commercial

Neighborhood

Richmond Place

Quadrant

SW

Status

Still With Us
Excerpt from Booming Houston & The Modern House by Ben Koush
The design of the Fred Winchell studio was completed by late August, 1953, when a rendering by Burdette Keeland was published in the Houston Chronicle. The project consists of two rectangular buildings separated by an intensively planted courtyard. The front building, facing Richmond Avenue, was framed in steel and clad in white stucco with dark colored wood trim. It is lifted off the ground on 7 feet 6 inch tall "stilts" reportedly "to get outdoor space, and a long, interesting vista from the street." Beneath the front building were four parking spaces. Above were two one-bedroom affiance apartments accessible by a spiral stair leading to the courtyard. The plan of the apartments was almost identical to that of the efficiency units Taylor laid out for the Lake Street Apartments. The bedrooms were located on the street side and were shielded by a solid stucco wall. Winchell's neon-lit logo was affixed to the street face. The outside wall of the bedrooms was set three feet behind this solid panel to provide space for air conditioner condensers and a light well for the bedroom windows. In the 1955 American Architects Directory Taylor listed his architectural office as being in one of the apartment units.
The courtyard was laid out in the form of a grid: four units by four units lining up to the edges of the buildings with four half units extending past the building line along both sides. Each of the 10-foot by 10-foot squares was filled with a different material or plant including brick pavers, sawn tree trunks, exposed aggregate concrete, grass, ground covers, shrubs and small trees. The effect was deemed to be "charming" by Architectural Forum. Winchell reportedly used the courtyard for outdoor photography.
At the rear of the property is the one story building. This nearly windowless "handsome little temple" was also framed in steel. Instead of stucco walls, it had dark red brick filling the space between the exposed steel members, which were painted dark blue. The studio building was probably the first true example of Miesian commercial architecture in Houston. In the 1960s Sally Walsh, one of Houston's most influential modern interior designers, used the studio building as her residence.
The building was also featured in Arts and Architecture in 1955.