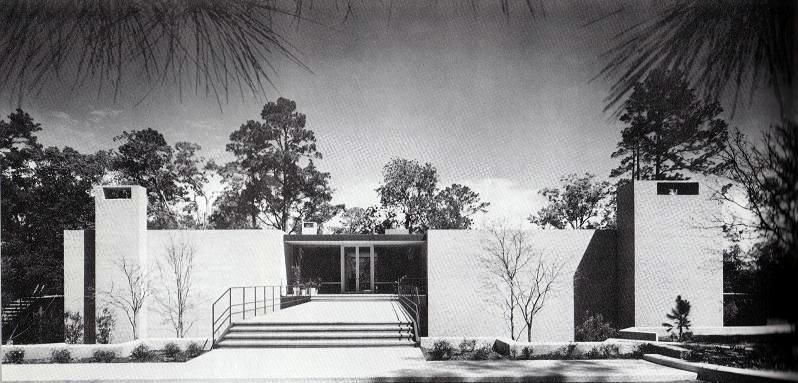 Maher House
2930 Lazy Lane
Architect

Year Built

1964

Building Type

Single-Family Residential

Neighborhood

River Oaks

Quadrant

SW

Status

Still With Us
In his article for Cite Magazine, Fall, 1987, Stephen Fox stated that Howard Barnstone described the Maher House as a "p-a-l-a-c-e." It could be the most awe-inspiring architectural feat for a private residence of the 1960s in Houston.
The Maher House was featured in Architectural Record in 1965 and then was later included in 25 Years of Record Houses edited by Herbert L. Smith Jr. From this book: "A steel and glass living-dining room, which seems almost to be suspended among the trees is unquestionably the most dramatic feature of what is in any case an unusually interesting scheme. The enormous living pavilion consists of a 55-foot-by-30-foot steel truss restion on four 4-by-4-foot brick columns. The architect (Barnstone and Aubry) said that the unusual shape of the steel framing was governed by engineering considerations, but this has the effect of enhancing the appearance of the structure and preventing it looking like an oversized glass box… The architect says that the house was conceived of in two masses, the front mass containing entry, bedrooms and all family spaces, while the back mass consists of the huge living room, with a parking space beneath."
On a winter day, when the leaves have fallen off of the trees, the Maher house can be spied at a distance from Bayou Bend's gardens. Parts of the house have been altered. The brick has been covered over in favor of a stucco exterior.
The landscape architect was Thomas Church.