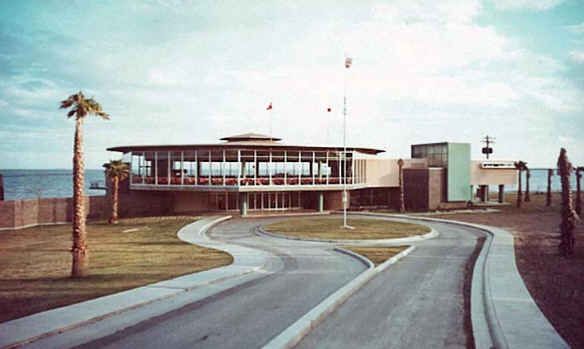 Sylvan Beach Pavillion
554 N Bayshore Drive
Architect

Year Built

1956

Building Type

Institutional

Neighborhood

La Porte

Quadrant

SE

Status

Still With Us
The Sylvan Beach Pavilion, completed in 1956, is the third pavilion to have been built in this park. It is an outstanding example of mid-twentieth-century modern architecture. It also is an early example of the application of modernist construction practices to the problem of designing a glass-walled, long-span pavilion in a vulnerable location exposed to the tropical storm surges and violent winds.
The Pavilion`s most significant interior feature is the 68 foot diameter circular hardwood dance floor situated in the center of a glass walled octagonal ballroom covered by a 135 foot diameter concrete roof supported by only 8, 18-inch diameter concrete columns. Another leading feature is the triangular shaped elevated wood deck that extends out towards the Galveston Bay shoreline.
It was recognized at the time of its completion with an Honor Award for Design from the American Institute of Architects, Houston Chapter, in 1957. In January 1957 it was published in the Los Angeles-based architectural journal Arts + Architecture.
Unfortunately, due to its coastal location, the pavilion was damaged by seven hurricanes over the years. In 2008, Hurricane Ike finally caused its closure.
In 2011, Commissioner Jack Morman, aided by local non-profit Friends of Sylvan Beach Park & Pavilion, secured three separate historic designations for the space and made the renovation a priority. The pavilion is now listed in the National Historic Register by the Texas Historical Commission, is a Recorded Texas Historical Landmark, and is recognized as a State Archaeological Landmark.
Recognition: Arts and Architecture, 1957; and Houston AIA Honor Award