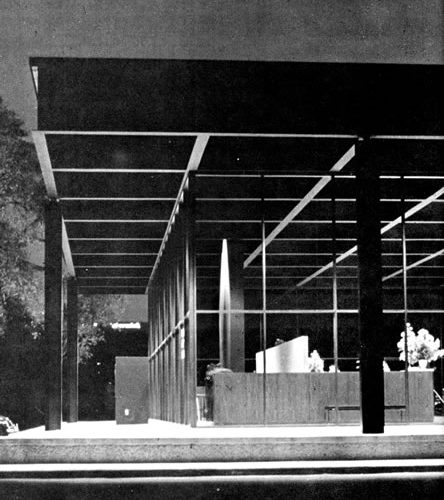 Bank of Houston Building
5115 Main Street
Architect

Year Built

1967

Building Type

Commercial

Neighborhood

Museum District

Quadrant

SW

Status

Still With Us
The Bank of Houston was an homage to Mies van der Rohe's Berlin National Gallery of 1968 in Berlin. It was an approximate quarter-scale replica of the master's work. The rigid steel plate roof of the Houston project was 90 feet square, that of the German project 213 feet square. Its interiors were designed by celebrated Houston interior designer Sally Walsh.
As was often the case, Mies van der Rohe's disciples completed their work before he did. Two other well known examples were Philip Johnson's Glass House of 1949 which referenced the Farnsworth House of 1950 and SOM's Lever House of 1952 which was inspired by schemes that came to fruition in the Seagram Building of 1958.
Today, aside from some unfortunate signage, the building is in excellent condition with many of its original fitting still intact.