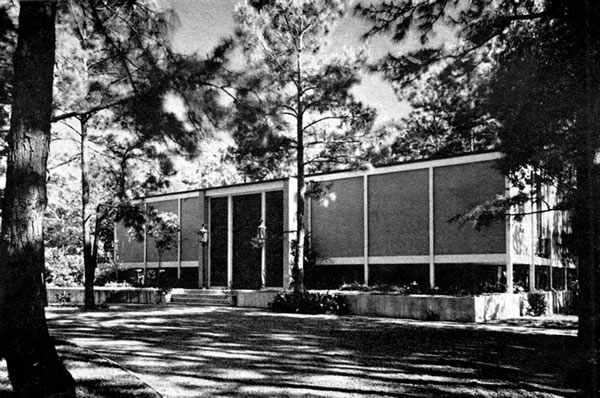 Carter House
62 Briar Hollow Drive
Architect

Year Built

1960

Building Type

Single-Family Residential

Neighborhood

Briar Hollow

Quadrant

SW

Status

Still With Us
As the 1950s progressed, many modern architects in Houston took what the magazine House & Garden termed "a fresh-eyed view of the past" in their designs. This discourse with history first appeared obliquely. The Miesian Neuhaus House of 1950 was described as having a spatial richness akin to an ancient Roman courtyard villa, for example. However, by the end of the decade, the historical references became much more direct. The favored trope of Houston architects was Palladian symmetry.
The Carter House, designed for John B. Carter, Jr., the southwest representative for Lehman Brothers at the time, was described by both House & Garden and the Houston Post as being a veritable Palladian villa underneath its modern skin. With its perfectly symmetrical seven bay façade and central columned entry flanked by enormous antique lanterns and monumental stair case, this assertion was instantly clear.
The interiors reflected another Houston predilection, that of filling a modern house with eclectic antique furnishings. The flamboyant décor was the work of interior designer Herbert C. Wells, who along with the more restrained Sally Walsh, was a favorite choice among local modern architects.
Andrew and Cathy Echols hired designer Michael Landrum to remodel the house in 2002. The old circular front drive was eliminated in favor of an axial motor court and lawn. The entry was simplified. The campy sheet metal entry canopy was replaced by a flat overhang, the large lanterns were removed and the heavily carved wood front doors were replaced with metal framed sand-blasted glass doors. An open deck off the kitchen that had been encased in green Plexiglas was incorporated into the body of the house as an eighth bay slightly smaller than the others in order to save a large tree.