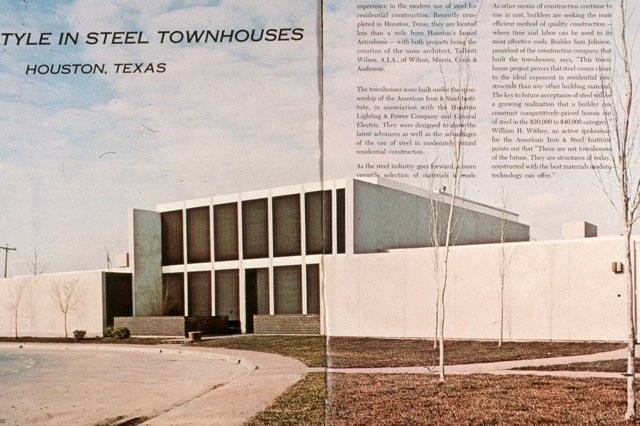 Style In Steel Townhouses
4156, 4158, 4160 Meyerwood Drive
Architect

Year Built

1968

Building Type

Multi-Family Residential

Neighborhood

Townhouse Manor

Quadrant

SW

Status

Still With Us
Designed in 1968 by the architectural firm Wilson, Morris, Crain & Anderson these three townhouses (a two story unit, flanked by two single story ones) are unusually effective and elegant examples of the spaciousness and livability that can be achieved on a small urban lot. Though built as a promotional development to examine the uses and potential of steel in house construction (and steel was used throughout as structure, furniture, equipment and fittings), the design goes further to demonstrate that material`s compatibility with such other materials as wood, terrazzo, travertine; brick and stucco, to create comfortable, warmly attractive homes. A great amount of the elegance of the designs, however, was architect Talbott Wilson`s use of the thin-lined precision possible with steel.
All the houses are quite introverted for privacy and have walled-in entrance courts. Other courts are sprinkled through the plans for added light and openness to the interiors. The family automobile entrance to each house is at the back, with a sheltered two car parking space flanking a public alley.
In all the houses the partitioning (and, in the two story house, the upper floor) is planned to give basic visual privacy, yet permit the eye to travel beyond for longer vistas.
The structure of the houses is steel post and beam on concrete slabs. Roofs are steel decking, surfaced with built-up roofing. Exteriors are stucco and red cedar louvers and screens. The fascia is steel. Interior partitions are gypsum board on steel studs. Additional features in the houses include steel doors & frames, commercial glass & sliding doors. The International Design style included many minimalist details, including the reveals at the ceiling and the recessed base. Interior finishes include terrazzo, travertine & brick flooring, metal kitchen cabinetry, wall hung water closets & cabinets, and built-in central vacuum system. The houses are all electric.
Built in one of Houston`s first planned townhouse communities (Townhouse Manor) in 1968 by the American Iron and Steel Institute, Houston Lighting & Power Company and General Electric Company for the National Association of Home Builders 1969 convention at the Astrodome. Surrounded by mundane and typical developer/builder townhouses of the period these homes stand out as classic and elegant contemporary residential design using steel construction components along with more traditional material, stone, stucco and wood.
All three townhouse are still intact as single family dwellings and are in excellent condition. They have always been maintained and owner occupied, having changed ownership very few times in a 39 year period. Clear, straight forward floor plans, tall ceilings, spacious rooms, plenty of natural light combined with an abundance of private outdoor spaces, make these homes as comfortable and livable today as the day they were built. These homes embody and convey a clean, crisp, timeless elegance found in the International Style of Architecture and were influenced by Architect Mies van der Rohe's Farnsworth House, Philip Johnson's Glass House, and the California Case Study Houses of the 1950`s and 1960`s. Picked as an outstanding example of residential architecture as a group by Architectural Record Magazine for their 1969 Record Houses issue, featured in Architectural Digest the same year, and awarded the Twenty-Five-Year Award in 1998 by the Houston Chapter of the American Institute of Architects these homes have certainly lived up to their honors. Renewed attention to the townhouses occurred in 1999 when 4156 was on the Houston Chapter AIA Home Tour and HGTV's Homes Across America program. 4156 was published in Architectural Record in November 2001 and both 4156 and 4160 were on the 2005 RDA/Houston Mod Home Tour.
On May 16, 2007, after a fifteen month long process, the Houston City Council voted unanimously to grant Protected Landmark Designation to the "Style in Steel Townhouses". They are now the first structures in Houston less than 50 years old to be so designated and the first townhouses to be granted such status. This vote came after previous approval, first from the Houston Archaeological and Historical Commission on March 14, 2007 and second by the Houston Planning Commission on March 29, 2007.