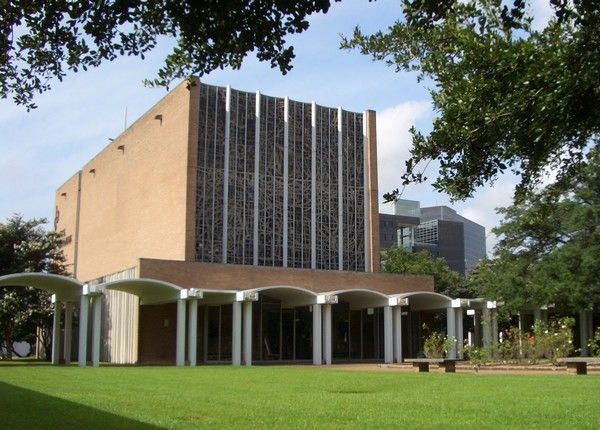 Central Presbyterian Church Houston
3788 Richmond
Architect

Year Built

1963

Building Type

Religious

Neighborhood

Greenway Plaza

Quadrant

SW

Status

Mod No More
Designed in 1960 and dedicated in 1962, Central Presbyterian is a well-preserved example of modernist church architecture. The campus includes 5 buildings meeting the space and programming requirements of a large congregation. The individual structures are linked by barrel-vaulted colonnades that direct visitors from the parking area around to the meeting, lounge and educational facilities.
The main sanctuary is a symphony of elliptical shapes; nearly every surface and fixture is rounded in form including panels of the large dalle de verre colored glass window on the North facade. A custom-designed choir screen and other rich detailing add to the space.
The front facade of the small jewel-box Chapel of the Reformation is also a dalle de verre glass mural. Both murals were executed by the George L. Payne Company. The chapel`s ceiling appears to float in space above the rustic pews. A space-age spire completes the exterior impact.
A large parish hall has rich exterior detailing of curved Mexican brick panels, turquoise mosaics and window screens of stacked elliptical tiles.
Faced with over a decade of declining membership, the church has recently closed and is being marketed as a redevelopment site. The current congregation is in the process of transporting the remaining furnishings and church records to St. Phillips.