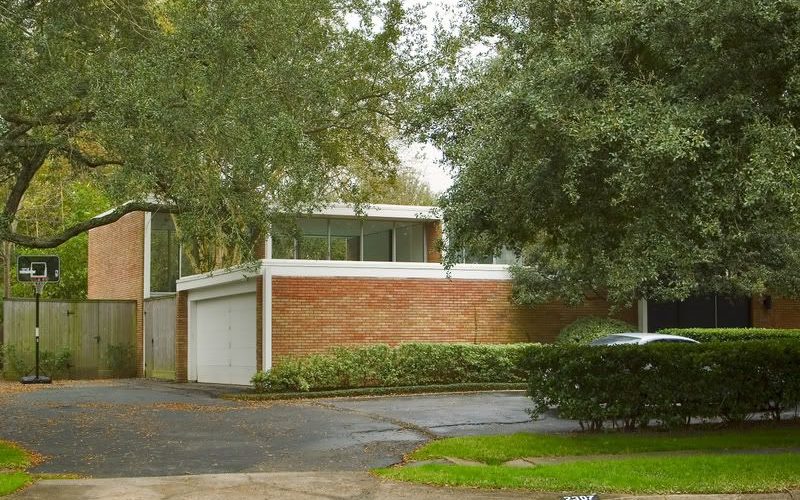 Gordon House
2307 Blue Bonnet
Architect

Year Built

1955

Building Type

Single-Family Residential

Neighborhood

Braeswood

Quadrant

SW

Status

Still With Us
The Gordon House is one of Houston's most well known and beautiful Mid-Century Modern residences. In 1956 it was showered with awards, including the 1956 Medal of Honor, Houston Chapter AIA, 1956 Honor Award, Texas Society of Architects, and the 1956 Special Mention from House and Garden. It was featured in Architectural Record, Art in America, Art & Architecture, House & Garden, Los Angeles Times Magazine, and the New York Times between 1956 and 1963, and was included in the 1959 book, THE SECOND TREASURY OF CONTEMPORARY HOMES, under the title "Disciplined Elegance".
As stated in the book, "Structurally, the house consists of a very simple steel frame, set on a concrete slab. The five bays are filled with glass or pinkish brick panels, with the steel left exposed, painted white. All is planned on a four-foot module. Overhangs are encompassed in the overall shape of the building by insetting the glass areas." Three of the four bedrooms have sliding glass walls that lead to the backyard (master bedroom is downstairs) or out to balconies upstairs. Terrazzo flooring is employed in the main areas of the house and carpet is employed in the bedrooms.
The house's most dramatic feature is its two story glass walled living/dining room. Originally furnished by Florence Knoll herself, the room contained the classic Barcelona Chairs and Table along with a Florence Knoll sofa and Arteluce Lamp. All of the furniture appears to almost float in the room. When the house was sold to its current owner, much of the original furniture was sold with it and remains.
The Gordons were quoted as saying, "We feel we are living in a piece of sculpture, unique in that it is spacious, comfortable, sparkling, and above all – beautiful."
Thomas D. Church was the landscape architect. A swimming pool has since been added to the property. The current owners have restored the house as faithfully as possible and maintain it beautifully and were recently featured in Fort Bend Lifestyles & Homes Magazine in 2005. It was also featured twice on RDA tours, in 1986 and 1999.